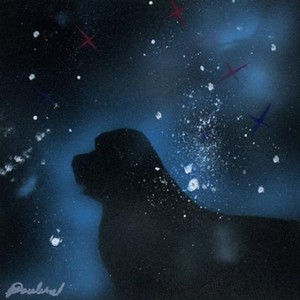 "Always There" - 6 x 6 acrylic painting - eBay auction
This original Newfoundland dog painting is titled "Always There." In the creative process of this painting, I was inspired by the concept of "the rainbow bridge" as well as the beauty of the Newfoundland dog. The wonderful thing with art is that each person can see something new and completely different in the artwork.
What I envisioned with this painting was that whether in the present or a time after one's Newfoundland dog has passed over the rainbow bridge, they are "always there." I chose to make the silhouette newf to make it a sublime feeling that it can be any newf, or any dog breed or mix for that matter.
I created the starry, dark blue space background to create a sense of a portal, a different dimension, yet, still the Newfoundland dog would be with us.
View current eBay auctions of my drawings and paintings.
Join the Collector's Club and Get Behind the Scenes Info!
If you enjoyed this post, I'd appreciate if you'd help spread it by emailing it to a friend or sharing it on your favorite social media networks. Thank you!!
Gunilla Wachtel ~ Conveying the Beautiful Essence of Animals in Art
Kanweienea Kreations